Great painting at a fair price!
Interior/Exterior
Paint /Stain
Residential/Commercial
Insured
Free Estimates
Satisfaction guaranteed!
Eitel (pronounced "I Tell") Painting is a locally owned and operated business in Greeley, CO. Owner Kevin Eitel has been painting since age five. He would often accompany his dad on paint jobs when he worked for BoydCo Painting on his days off from the fire station. Kevin went on to do various contracting work including remodeling, tile work, home repairs, and of course, painting. For a long time, he wanted to start his own business, and eventually decided to specialize in painting. He would love the opportunity to work with you and transform your house into the beautiful home you envision!
Below is two of our employees going
to new heights to get the job done!

COLOR CHANGES
Want an entirely different look? No problem! We can do any color you choose on any surface.
EXTERIOR RE-PAINTS
Want to freshen up your house a bit? We can re-paint the same color it was to bring the fresh look back to your home. We can do as many or as few colors as you like. Accent colors on doors are no extra charge.
INTERIOR PAINTING
Looking for a total makeover? We do all interiors including ceilings, walls, trim, doors, and cabinets. Just want to freshen up one room or add a little color with an accent wall? There is no job too small!
Need help with colors? Ask for a free color consult!

COMMERCIAL BUILDINGS
DON'T LIKE YOUR OLD METAL BUILDING COLOR? WE CAN CHANGE ALL OF IT, EVEN THE ROOF!
ACCENTS
We can paint your favorite team colors in your room!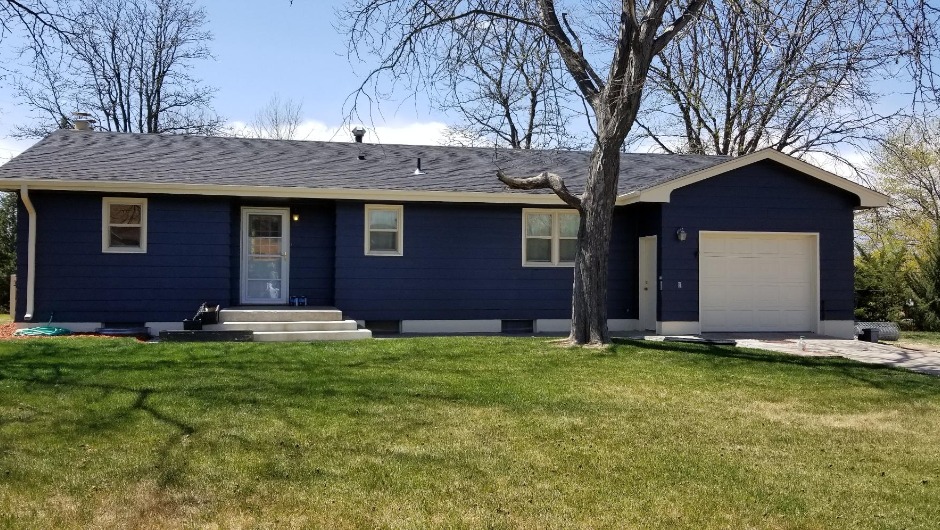 EXTERIOR PAINT
HOUSES OF ALL SIZES AND COLORS.
Please submit your information if you have a question or to request a free estimate. Someone will be in contact with you soon.